Applying for a Green Card (visa to America)
America, the greatest land this world has ever seen, is "the land of opportunity", a land for dreams, passion and talent – a land where all your fantasies can come true. USAFIS is your key partner in helping to make your American Dream become a reality!
Millions of immigrants come to the United States except those who never apply to participate in the DV-Lottery and miss their unique chance to fulfill their desires.
How NOT to Apply for a Green Card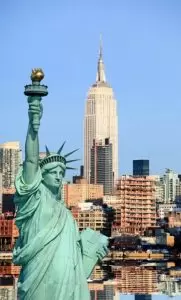 America has the best of what every person wants. Now the only question is how you are going to apply for a Green Card to immigrate to America and earn successfully the Green Card privileges offered by the US Diversity Visa program!?
Even if you think that you know how to apply for a Green Card on the US State Department website on your own for free – without any assistance – you are running the risk to be disqualified, even not participating in the DV-Lottery, because you've failed to correctly follow the strict rules required by the American Government.
Running a Risk without USAFIS
People whose first language is not English might easily make disqualifying mistakes. Even a simple task such as uploading several family members' digital photos, might prove to be a challenging endeavor.
Mailing Green Card applications to the US State Department or an American Embassy is not an option for taking part in the Lottery, because Diversity Visa applications are filed only electronically now (i.e., you can't send applications and photos through the post/mail anymore). With the help of the experienced professionals at USAFIS, your application and photo(s) can be properly prepared and submitted on time for guaranteed participation in the DV-Lottery.